Macy's Black Friday – The 2019 Macy's Black Friday ad has arrived! While you're waiting for Black Friday to get here, get a jump on your holiday shopping with the latest Macy's coupons and deals.
How is Macy's Black Friday??
Macy's Black Friday ad released on November 12, 2019. The forty-page ad is packed with tons of savings and discounts. Macy's has structured there Black Friday savings around specific times, with some sales starting online On Wednesday, November 27. Macy's will open at 5 p.m. on Thanksgiving Day and will close at 2 a.m. only to reopen at 6 a.m. for its Black Friday doorbuster sales.
Macy's has structed doorbuster and sale pricing throughout Thanksgiving and Black Friday, so make sure to pay particular attention to which sale you're most interested in and what time the price changes. In most cases, the Black Friday sale price is good until 1 p.m., after which the price jumps up a bit for the remainder of the day. If there's a hot item you're after, odds are you will need to buy it before 1 p.m.
There are also several mail-in-rebate offers throughout the ad, with the best of the bunch becoming free after receiving the mail-in-rebate. These offers are only at this low price until 1 p.m. after which they will no longer be considered free with rebate.
Macy's is also including a $10 off $25 coupon and a $25 off of $50 coupon, neither of which can be used on doorbusters and have a few other restrictions. Make sure to pay particularly close attention to whether or not the coupons will apply to the items you're most interested in.
Lastly, Macy's is also offering a pair of diamond earrings for $30 whenever you spend $50 or more.
Some of the best deals we saw are:
Chicago Cutlery – $100 ($150 after 1pm, $150 off)
Shark Ion – $180 ($299 after 1pm, $200 off))
Ninja Foodie – $170 ($230 after 1 p.m.)
Rachel Ray Cookware Sets – $80 ($85 after 1pm, $220 off)
Plush Throws – Free with Mail-in-Rebate ($13 after 1pm, $30 off)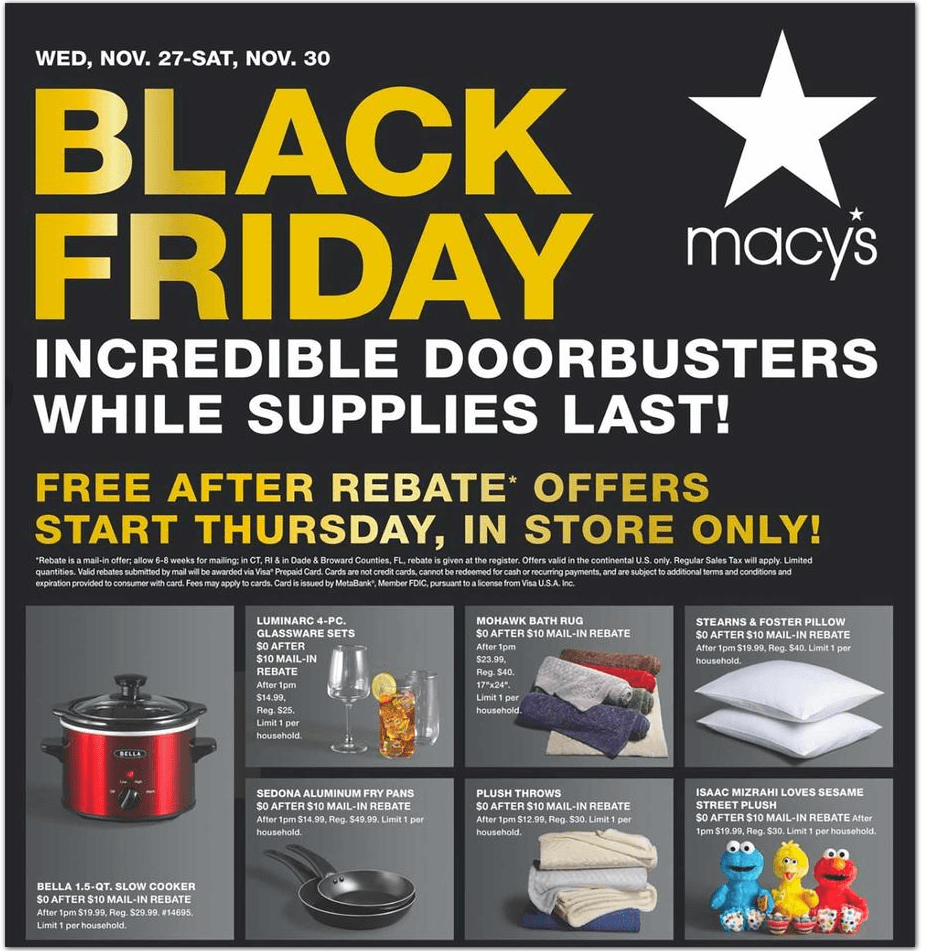 Macy's 2019 Black Friday ad is here!
Check out our Macy's Top 10 Black Friday 2021 Deals! Macy's will open at 5 PM on Thanksgiving and remain open until 2 AM on Black Friday. They will reopen at 6 AM Black Friday until 10 PM.
You can also view last year's 80-page 2018 Macy's Black Friday ad scan for reference.
Be sure to subscribe to our newsletter to receive emails about all the latest Black Friday news and ad leaks for your favorite stores, or check out all of the latest Hot Deals.
Macy's Black Friday Makeup Sale
America's best-loved department store for fashion and affordable luxury, Macy's stores offer Clothing, accessories, home goods, handbags, and fragrances. You can visit any Macy's Nearby Store for macys black friday beauty Deals. Shop Macy's stores to find designer names like Calvin Klein, Ralph Lauren, Tommy Hilfiger, Jessica Simpson, and Michael Kors. Save more with Macy's coupons and discounts that are released throughout the year.
When does the Macy's Black Friday sale start in the store?
Macy's opens at 5 pm on Thanksgiving Day.
Will Macy's be open on Thanksgiving Day?
Yes, Macy's will be open on Thanksgiving.
Macy's Black Friday 2021 Tips:
Look for coupons good for $10 off $25 and $20 off $50. You can use them both in-store and online.
The $40 cashmere sweaters are one of our all-time favorite Black Friday deals!
Check out the "free after rebate" deals on the first page.
What Sale Did Macys Have On Black Friday
When Will Macys%27 Black Friday Deal Available Online
How Is The Macys Black Friday
How To Spray With Mini Bottle Of Jimmy Choo Women Fragrance Comes With Macys Black Friday Deal
What Time Macys Openes On Black Friday
What Was The Best Selling Items At Macys During Black Friday
How Long Do Black Friday Sales Last For In Macys
When Does Macys Preview Black Friday Sale Start
Macys Black Friday Deals Begin When
What Kind Of Sales Does Macys Have On Black Friday
When Do Macys Online Black Friday Start
When Does Black Friday Macys End
What Time Can I Order Online From Macys For Black Friday
How Is The Macys Black Friday 2014
When Is Macys Open On Black Friday 2017
How Much Did Macys Make Black Friday
What Time Does Macys Open For Black Friday 2015
When Does Macys Black Friday Ad Come Out
What Will The Black Friday Sale Be Like This Year At Macys
When Is Black Friday In Macys
What Happens If I Call In Sick On Black Friday Macys
What Time Do Macys Open Black Friday Dayton Ohio
What Is The Macys Black Friday Sale
What Are Macys Specials For Black Friday
What Are The Sales At Macys Black Friday
What Time Does Macys Close On Black Friday
What Sale Is Better At Macys Birthday Sale Or Black Friday
When Will Macys Release Black Friday Ad
What Time Does Macys Open On Black Friday Hours
What Time Macys Downtown Portland Open On Black Friday
How Can We Use Macys Coupons Nothing Works For Black Friday Deals
How Much Does Macys Offer For Black Friday And Cyber Monday
How Much Discount On Macys Black Friday
Macys Black Friday Deals Till What Time
When Did Macys Black Friday In July Begin
What Was The Top Selling Items At Macys During Black Friday
When Does Macys Open On Black Friday 2017
When Does Macys Open On Black Friday 2015
What Time Does Macys Open For Black Friday%3f
What Time Will Macys Start Online Black Friday
When Macys Black Friday Sale Start Online%3f
Which Mattress Was 136 At Macys On Black Friday 2017
What Time Macys Open On Black Friday
What Time The Black Friday Starts At Macy's
Macy's When Is The Right Day To Have Coupon Black Friday
What Time Does Macys Black Friday Online Start
How Low Does Macy's Go For Black Friday
When Does Black Friday Sale Start In Macy's